Craig English Award
This award shall be presented to the member who best exhibits sportsmanship, perseverance, and dedication to the sport of Powerlifting in BC. This award will not necessarily be presented each year, if no suitable candidate can be chosen and recipients may only receive this award one time.
In order to be eligible, candidates must be involved within the BCPA for a minimum of 10 years and candidates will be selected by the BCPA executive.
Craig English was a very passionate BCPA member who overcame a number of personal troubles. He passed away in a fatal gym accident while training, and was the first recorded gym fatality ever in Canada.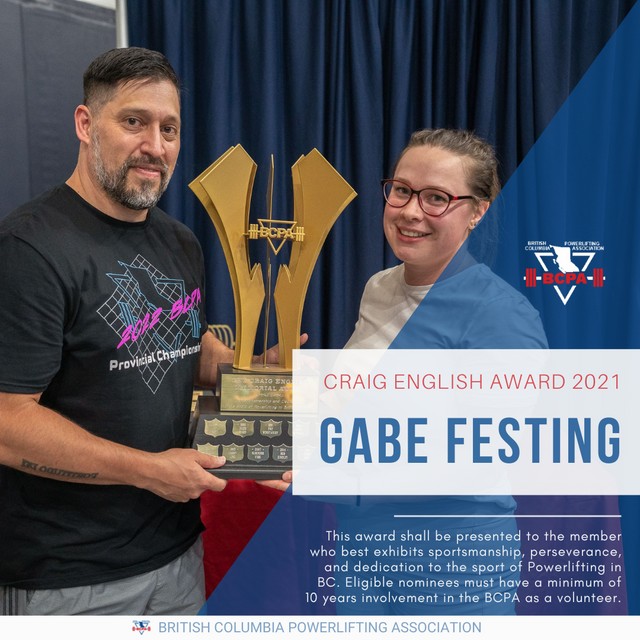 2021 – Gabriel Festing
2015 – Joe Oliveira
2014 – Bob Hindley
2011 – Chris Robb
2007 – Surinder Virk
1995 – Larry Ling
1994 – Dave Richard
1993 – Wendy Robb
1992 – Geoff Nuthall
1991 – Pat Winstanley
1990 – Hugh Ward
1989 – Ed Boyt
Volunteer of the Year
Started in 2014, this award is to recognize the outstanding contributions made by volunteers to the BCPA and who exemplify the mission and values of the BCPA. The recipients are selected based on their service from the last calendar year and may not receive the award in consecutive years. Board of Directors and Officials are not eligible for this award. Recipients will be announced at the Provincial Championships and receive a letter of congratulations and be awarded a plaque.
2019 – Wendy Yamazaki and Amy Moore
2018 – Ralph Nevill and Sara Youd
2017 – Mary Ann Middleton and Arthur Field
2016 – Meara Mullholand and Lynne Desautels
2015 – Blake Taylor and Eliana Rolando
2014 – Ben Nickerson and Wendy Yamazaki
Athlete of the Year
Started in 2014, the Athlete of the year award is to recognize BCPA members' performance on the platform. Recipients should have competed nationally and/or internationally in the past year to be considered. Records, totals, IPF GL Points and personal improvement will all be taken into account.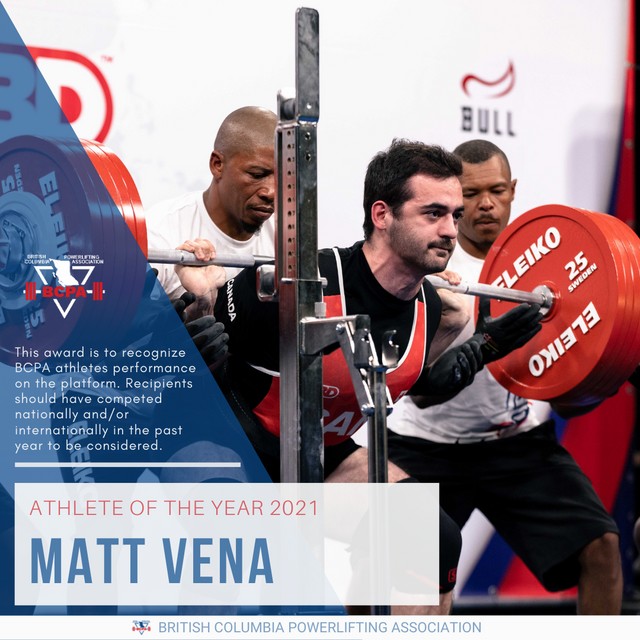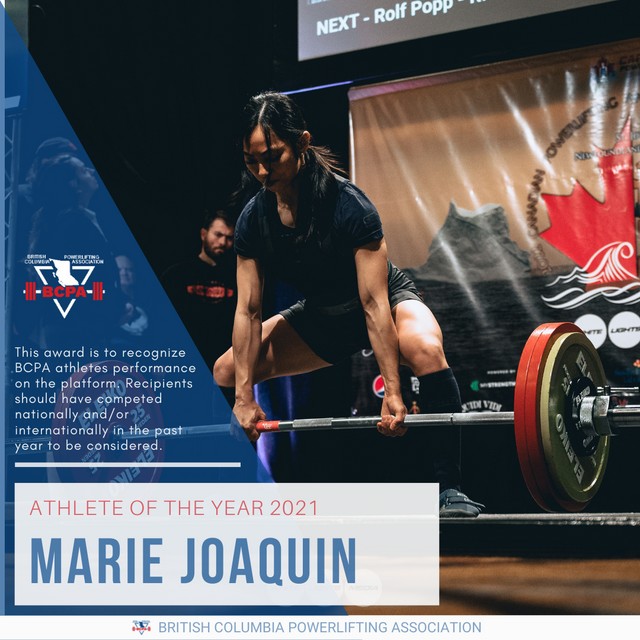 2021 – Matthew Lewis Vena and Marie Jenevieve Joaquin
2019 – Jenna Sabino and Matthew Lewis Vena
2018 – Jackson Spencer and Bonney Rempel
2017 – Adam Ramzy and Alison Kam
2016 – Bonney Rempel and Stephen Cascioli
2015 – Aimee Mergaert and Adam Ramzy
2014 – Pamela Anderson and Kevin Weiss
Robert O. Smith Award
Robert O. Smith was a prolific BC powerlifter, mentor and force of nature throughout his life. The Robert O. Smith Award will be presented annually to one male and one female Bench Only competitor who achieve the highest level of performance while representing the BCPA.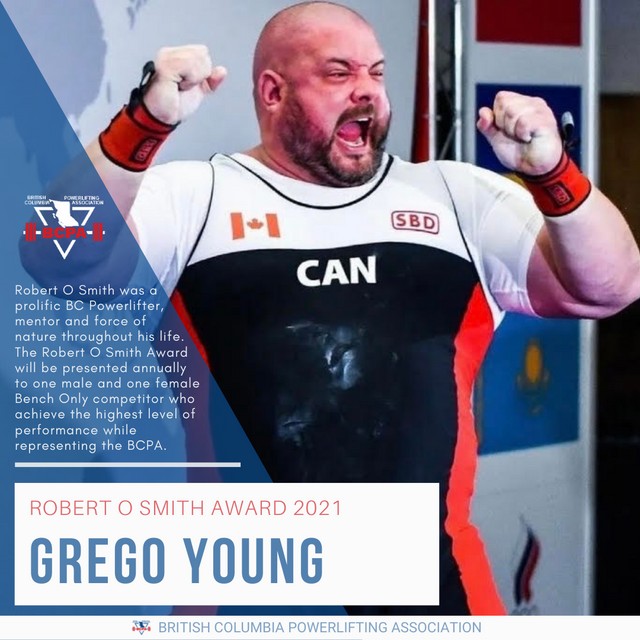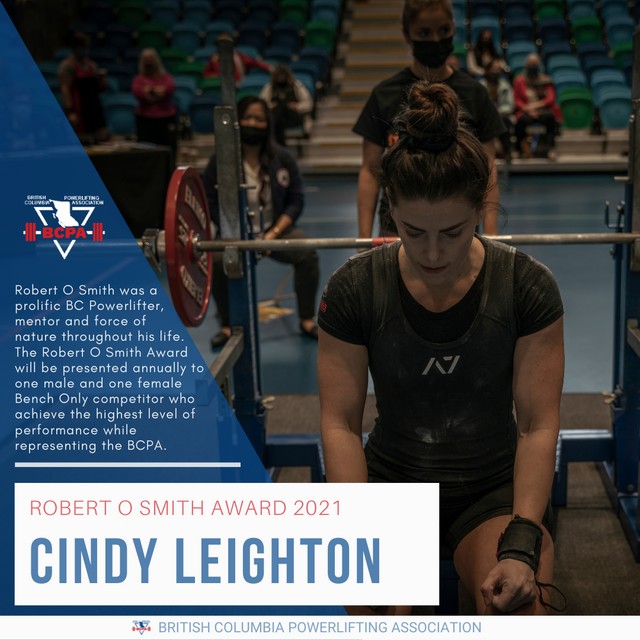 2021 – Gregory Young and Cynthia Leighton
2019 – Gordon Sjodin and Magdalena Kijak
Christopher Robb Award
This award shall be presented to a BCPA referee who best demonstrates professionalism, dedication and knowledge of rules and policies governing the sport of powerlifting within the BCPA.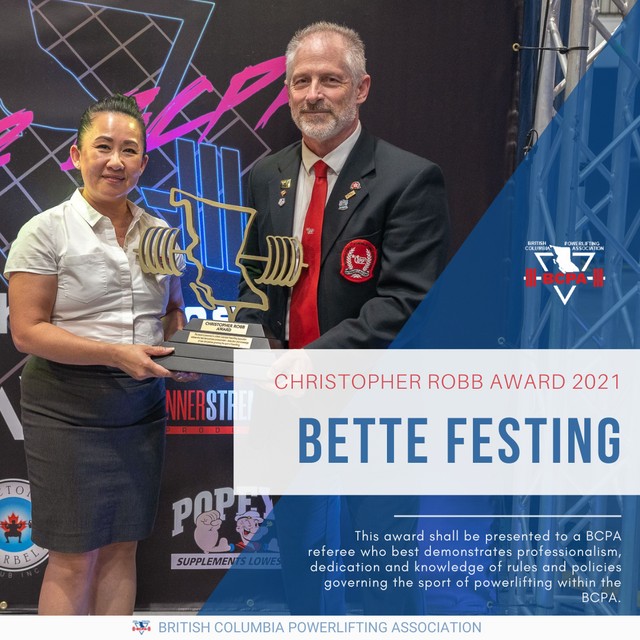 2021 – Bette Festing
2019 – Christopher Robb
Annual Student Bursary
The BCPA will be awarding up to two annual bursaries in the amount of $500 to assist active members attending post-secondary and that are in need of financial assistance. Recipients must be passionate and driven individuals who train hard and study harder. This bursary is a non-repayable award, and applicants must meet the certain requirements, along with submitting the required documentation to be eligible. The BCPA executive members will choose the recipient of the award based on their written statement.
2019 – Jenna Sabino and Veronica Jones
2018 – Mike Brion and Denae Swadden
2017 – Landyn Hickmott
2016 – Meara Mullholand and Adam Ramzy